If you have always dreamed of living downtown in a great city but know that the price will always be too much, Oshkosh might be the place for you. Downtown Oshkosh is an up and coming place that provides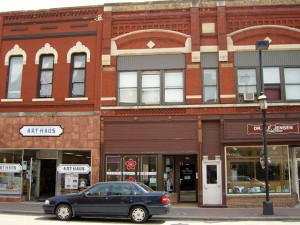 metropolitan] food and styles with a much smaller price tag. Yes, Oshkosh is a much smaller city than what you were thinking about living, but a smaller scale brings an opportunity to get a variety of atmospheres instead of just the city feel.
Not only does Oshkosh have an up and coming bustling downtown, it also has plenty of parks, bodies of water, and is an easy drive to other up and coming cities around the Fox Valley area.  Menominee Park is only a short distance from Main Street. Ride your bike down and take the path around the park past Millers Bay and onto the scenic Ames Point. The path is next to  Lake Winnebago the whole time so don't forget to take in the amazing sight. You can even take your fishing pole to catch dinner or wear your bathing suit and bask in the sun on the sandy beach. Menominee Park also is home to wolves and monkeys in the zoo, lighted tennis courts, a carousel and other park rides, and gazebos for any outdoor event.
Oshkosh is more versatile than other cities because of all the different scenery. One of these scenes is the beautiful Fox River. Come check out the new river walk and let it take you to all the most fun places to get a drink and catch up with friends or make new ones. At the end of the river walk you will find one of the biggest amphitheatres in Wisconsin with the best view. Come enjoy the many festivals and concerts that take place there throughout the year. Get awesome music for less than half the price you would in a big city.
Oshkosh has an outlet mall with name brands for unbelievable prices. It also has many museums and historic sights that make for great rainyday activities.
With all of these spectacular things to do, it's no wonder Oshkosh has been named "the event city." By living in the city of Oshkosh, you can have the city feel while still being close to all sorts scenes. Oshkosh is the place for any city slicker with an adventurous heart.